---
How old is a whale? : animal life spans from the mayfly to the immortal jellyfish / Lily Murray ; illustrated by Jesse Hodgson.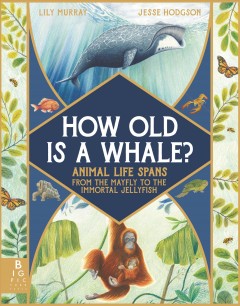 BOOK
Available copies
2 of 3 copies available at LARL/NWRL Consortium.
1 of 1 copy available at Northwest Regional Library. (Show)
Current holds
0 current holds with 3 total copies.
Record details
ISBN:

9781536229752

ISBN:

153622975X

Physical Description:

59 pages : color illustrations ; 31 cm

Edition:

First US edition.

Publisher:

Sommerville, Massachusetts :

Big Picture Press, an imprint of Candlewick Press,

2023.

Copyright:

©2022
Content descriptions
| | |
| --- | --- |
| Summary, etc.: | "We are all on Earth but for a fleeting moment, yet no two lives are the same. From the delicate mayfly, which lives for just a few precious hours, to the death-defying immortal jellyfish, this book about animal life cycles is a celebration of creatures big and small." -- Provided by publisher. |
Reviews
Booklist Reviews : Booklist Reviews 2023 March #1
*Starred Review* This handsome book presents information on the life spans of animals, beginning with the shortest: the adult mayfly, which emerges from its two-year larval stage underwater, shelters in plants along the bank, and transforms into a winged adult with only 24 hours or less to find a mate, breed, and die while her eggs sink into the water. Generally speaking, larger animals and those living in very cold habitats tend to have longer lives, though the book's last entry, the immortal jellyfish, reacts to danger by reverting to its polyp stage, which it can do repeatedly. Some animals, from monarch butterflies and periodical cicadas to grizzly bears and African elephants, may be familiar to children, while others will not. Although no sources are cited, Murray writes clearly, with a good sense of what will interest kids. The large format showcases Hodgson's digitally enhanced colored-pencil drawings. Unified in style but varied in their settings, details, and dramatic effects, the pictures helpfully illustrate habitats and successive life cycle stages as well as offering views of less-familiar animals, such as the pygmy goby (50 days), the echidna (45 years), the ocean quahog (400 years), and the glass sponge (11,000 years). An intriguing book for animal lovers young and old. Grades 1-4. Copyright 2023 Booklist Reviews.
Author Notes
Lily Murray grew up in the wilds of snowy nowhere, spending much of her time talking to animals and making up stories. She has continued to do this in her adult life, and now writes both fiction and nonfiction books for children. Her titles include Dinosaurium, Beneath the Waves, and Hidden Habitats: Water.

Jesse Hodgson studied illustration at the University of the West of England. She now lives and works in Bristol, England, where she has a studio space. She is the author and illustrator of several picture books. Her illustrations for Pongo were Highly Commended for the Macmillan Prize for Illustration.
Search for related items by subject