---
Accidental archaeologists : true stories of unexpected discoveries / Sarah Albee ; illustrated by Nathan Hackett.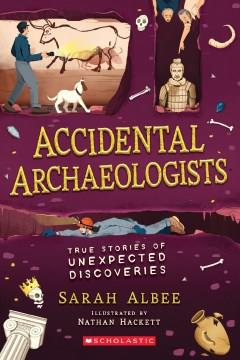 BOOK
Available copies
3 of 3 copies available at LARL/NWRL Consortium.
1 of 1 copy available at Northwest Regional Library. (Show preferred library)
Current holds
0 current holds with 3 total copies.
Record details
ISBN:

9781338575781

ISBN:

1338575783

ISBN:

9781338575798

ISBN:

1338575791

Physical Description:

213 pages : illustrations ; 21 cm

Edition:

First edition.

Publisher:

New York :

Scholastic Press, an imprint of Scholastic Inc.,

2020.

Copyright:

℗♭2020
Content descriptions
| | |
| --- | --- |
| Bibliography, etc. Note: | Includes bibliographical references (pages 194-200). |
| Formatted Contents Note: | Blast from the past -- Etched in stone -- A giant in the field -- In a pile, crocodile -- What a wreck -- Proving a point -- Paleo painters -- The case of the copper coins -- Scroll up -- Bogged down -- Lucky break -- Eternally yours -- Temple of gloom -- Grave considerations -- Dead in a ditch -- Skeleton key -- The chamber of secrets -- You don't say. |
| Summary, etc.: | "A lighthearted but informative look at chance discoveries made by ordinary people, of artifacts (and treasures) from the past. Many of these discoveries have led to leaps in our knowledge of history and science. Each short chapter will begin with a dramatic story of discovery, followed by the significance of the artifact that was discovered, followed by a look into the history of the civilization/era from which the artifact originates. The stories will show readers that potentially anyone-construction workers, farmers, casual passers-by, and even kids-can make discoveries like these"-- Provided by publisher. |
| Target Audience Note: | Ages 8-12. |
Reviews
Booklist Reviews : Booklist Reviews 2020 October #1
Archaeology often brings one of two things to mind: Indiana Jones or a dusty dig site crawling with meticulous scientists. But many important discoveries have been made by amateurs, often accidentally! This title covers a number of inadvertent breakthroughs made by a diverse group of figures, including a Bedouin goat herder, a freed slave turned cowboy, and an Italian sideshow performer, and while some discoveries are well known (the Rosetta Stone), others are less so (ancient papyrus scrolls stuffed into mummified crocodiles). Accounts span continents and centuries and are impressively comprehensive, giving historical context to both the moment of the astonishing finds and the history behind the artifacts. Albee's writing is sometimes simplistic, but it breaks stories down into digestible information for young readers, and the commentary is often terrifically funny. Additionally, Albee goes beyond merely extolling exciting archaeological discoveries, confronting the ethical problems inherent to removing artifacts from original countries and cultures. A whirlwind historical tour that may have kids frantically digging holes in backyards when it's done. Grades 3-6. Copyright 2020 Booklist Reviews.
Author Notes
Sarah Albee is the
New York Times
bestselling author of (mostly) nonfiction books for kids. Recent titles include
North America: A Graphic Foldout Timeline
;
Dog Days of History
;
Poison: Deadly Deeds, Perilous Professions, and Murderous Medicines
;
and
Alexander Hamilton: A Plan for America
. She lives in Connecticut with her husband, a high-school history teacher and administrator, and their three children. You can learn more about Sarah and her books at sarahalbeebooks.com.
Search for related items by subject